Profile
At Ajoi Landscape Design we are a team of landscape enthusiasts who work closely with clients to build aesthetically pleasing and functional solutions at every site.
Our designers collaborate with each customer to create more than just a beautiful landscape. Our goal is to enhance your property as a whole and to encourage outdoor living, giving you an investment that you and your family can enjoy for years to come.
We work diligently on each project from start to finish. We manage all aspects from concept to creation, providing full-property solutions. We are more than capable for handling every aspect of your outdoors, from gardens and landscapes, to pools and patios, and more.
Ajoi Landscape Design specializes in high quality residential applications, but is able to work with properties in all shapes and sizes. Whether managing large, multi-tiered landscapes at a multi-acre estate or optimizing style and function in a limited space, we recognize that each site is unique. By finding a custom solution, we bring out every attribute and exceptional quality that may be hiding in an outdoor space.
Creating, adding, or updating landscape features can seem like an intimidating endeavour. At Ajoi Landscape Design, we work hard to listen to your individual needs. By incorporating those needs into the useable features of your space, we capitalize on the property assets while meeting your desires.
The final product is your landscape dream turned into a reality.
Featured in Spring 2015 Issue of The Newmarket Chamber of Commerce's Your Business magazine
2012 Job Skills Award
Recipient of Job Skills 2012 Entrepreneur of the Year Award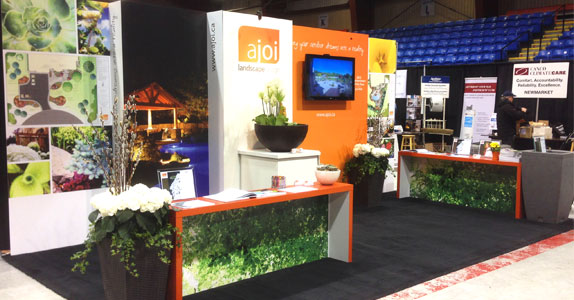 SEB Showcase Best Booth
Awarded SEB Showcase 2011 Best Booth
Working with Mark Franklin, president of Ajoi Landscape Design is exactly that—a joy! Mark is honest, thorough, reliable and will only do his very best to assure your expectations and dreams become reality. More so, he will work creatively on solutions and keep your needs ever in mind. He loves to be challenged and has a wide and reliable network to offer support and get the job done. There is no question in my mind; when there is any job to be tackled, a call to Mark is the first call we make.